Sue Airs and Louise Hambridge.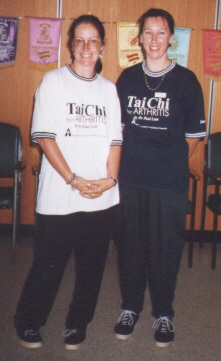 A dynamic duo of dexterous domestics turned Tai Chi tutoring twosome. Teaching 3-4 classes per week between Camden and Bowral during school terms, in Community Halls and Retirement Villages.
Who are we?
Sue (with the specs)....... lives in Bargo, NSW. Thirty-something, Mum to P.J. (10) and Caitlin (3). Fitness Leader and Tai Chi For Arthritis Instructor since November 98. Interests include Tai Chi (of course), music, meditation, ballroom dancing, reading, gardening, craft and crosswords. Appearing on Dr Paul's videos.
Louise.........lives in Yerrinbool, NSW. Thirty-not-as-many (tee hee), Mum to Jake (10) and Troy (7), and wife to Fred. Also a Fitness Leader and Tai Chi for Arthritis Instructor since November 98. Interests include Tai Chi (naturally), also appearing in a few videos, bushwalking, crosswords, exercising, and Welfare Officer for the local Rural Fire Service.
Why two of us?
It's twice the fun, and we make a great Tai Chi teaching team in our Tai Chi For Arthritis Teacher T-shirts (tee hee!!). Our students benefit from the extra individual attention that they can receive in class, particularly if they have missed a lesson or are having difficulty keeping up. One of us can lead the class, while the other observes and assists.
The Method in our Madness.....
We keep it fun and simple, and deliver it in the context of health and fitness, not something shrouded in religious mysticism and feudal superstition. We take Tai Chi to the people and tailor it to their needs in a gentle exercise format, ensuring fitness and fun for everyone, especially us! We love it!
Our Goals for The Future.....
To learn lots more Tai Chi and to introduce as many other people as possible to the wonderful world of Tai Chi. To travel to China in five years time to experience the culture, and we will learn to speak Chinese before we get there, so that we will not unwittingly be fed lamb testicles.
Sue and Lou