Deadline for the next newsletter by

June 30th

Your Tai Chi events, images & articles etc.
Tai Chi for Arthritis
12 virtual lessons
- DVD suitable for any tai chi beginners
-
Medical studies confirm Tai Chi for Arthritis relieves pain, reduces falls and improves quality of life, that is why the Arthritis organisations around the world support the program.
-
Combining a decade of teaching and research experience, Dr Lam presents new movement sequences in an innovative teaching format in these 12 real time lessons. Dr Lam also explains classical tai chi principles to enhance your understanding and enjoyment.

In this DVD we will share with you the secrets of how you can use light weights such as energy balls, dumbells, or any other wrist weights, to build core strength, sculpt and tone your Abs, hands and legs, toning and strengthening your entire body with Tai Chi energy patterns while holding the two balls.

The Key to Qi

The Key to Qi (Chi) is a comprehensive, motivational book that teaches the underlying principles of Qi, our Life Force energy, and guides the reader towards a deep understanding of how to harness Qi, activate and direct it effectively to create profound good health, energy and graceful anti-aging.

Presidents Report
Welcome members. Here we are, already in the fifth month. I'm feeling like we had better not stand still or this year will run right over us.
Trust your World Tai Chi Qi Gong day was a success. Have you sent your articles and photos in to the news team? I'm looking forward to seeing them.
Remember the TCAA Open Competition closes on May 28 so get you entries in.

Trust you are having a great year with your classes. There is a lot of information starting to circulate regarding the benefits of Tai Chi and Qi Gong right now and I hope it is flowing on to you in the way of new students.
Regards,
Dennis Watts
TCAA President
TCAA Open Tai Chi Competition Up-Date
Just a reminder that entries for the TCAA Open Tai Chi Competition will close May 28. It is early days at this stage of the competition but we are well ahead as far as organising is concerned. We have had some inquiries re the Push Hands competition and trust those that have inquired have received the information they were looking for.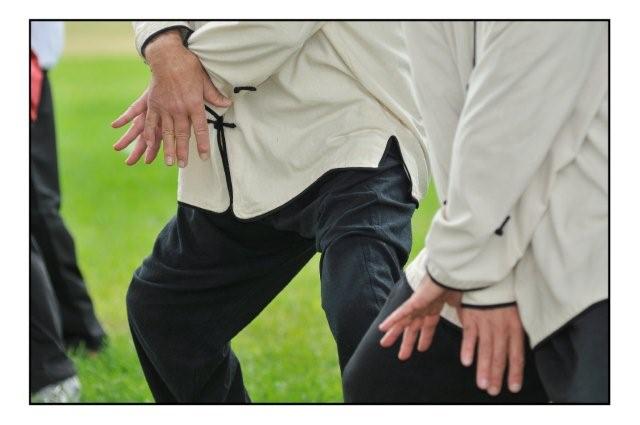 In relation to the Entry Form Push Hands section, competitors please note that there are no foot techniques permitted in "Fixed Step" competition. I know the entry mentions foot techniques in one section PUSH HANDS, Principles of Competition ll Action-3, "Foot techniques are not applicable under the fixed step conditions."and in the "POINTS", that should have been deleted from the form. I'm sorry for the mix up. As stated on the entry, this is a tryout competition for the rules. Rules will be set once we are confident and have worked through all aspects of Push Hands competition for the next years competition.
What TCAA really needs at this point are judges. We have 2 Taolu judges at this point and Head Judge for Push Hands. We still need 3 Taolu judges plus Head Judge. These must be IWUF/AKWF accredited judges. We also need 3 judges who are qualified to judge Push Hands. If you are qualified please contact me through dwatts@qldnet.com.au or by phone 0419763360. TCAA is the only organisation that assists judges with some remuneration of airfares, plus TCAA competition counts toward your required competitions attended for judges and officials.
Looking forward to seeing you in competition.
Dennis Watts
TCAA President/Competition Organiser
Membership Renewal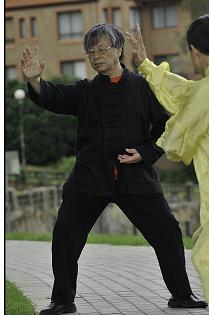 Hello Everyone,
Renewal time is coming again. If your membership is due 30 June 2010, please use the renewal form attached to this Newsletter to renew to 30 June 2010. The rate is still $25 after all these years.
For those with email, and who will need to renew to 30 June 2010, you will receive a separate email renewal notice in June from me, with the option to pay by internet banking transfer into the TCAA bank account.

Please note that from now on, it will be essential for all members to provide a residential address that is NOT a PO Box. Of course the Postal Address if provided will be used for postal mailings, but the residential address is needed to comply with conditions associated with the Control of Weapons Act 1990 of Victoria, the exemptions to which have now been officially granted by the Justice Depart of Victoria to "genuine" members of the TCAA. Please see separate article regarding this exemption.
Ken Goh
Treasurer & Membership Officer
APPROVED: Exemption for Prohibited Weapons Pursuant to the Control of Weapons Act 1990, Victoria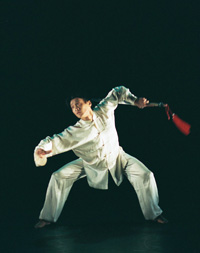 Good news! The Department of Justice, Victoria, in a letter to the TCAA, said: "The Department has identified your organisation as having an exemption under the Act. As such, you organisation is required to comply with the terms of the exemption laid out in the Victorian Government Gazette, G25 17 June 2004."
Importantly, the Department remind that "your organisation must not only meet the requirements with respect to storage and transportation, but members must also be required to comply .... Accordingly, you should ensure that only genuine participants are granted membership to your organisation."
The following conditions apply to all TCAA members resident in or visiting Victoria who own or will access swords whilst in Victoria:
When not being used in accordance with the purpose specified (ie receiving instruction, teaching, practising/training and or competing in Tai Chi), swords must be stored safely and securely; and a member of the police force must be permitted to inspect the storage arrangements at any reasonable time.
"stored safely and securely" means:
(a) stored in a manner calculated to ensure that the sword:
(i) is not readily accessible to a person other than the person seeking to rely on the exemption; and
(ii) is not available for possession, carriage or use by a person who is not themself a holder of an approval issued by the Chief Commissioner of Police or who does not fall within another class of exempt persons;
(b) when being transported between the usual place of storage of the sword and places at which the sword is legitimately used, the purpose of which is the subject of this exemption, stored in a manner calculated to ensure that the sword is not readily accessible to a person other than the person seeking to rely on the exemption and that the sword is concealed from plain sight during any such transportation.
TCAA's membership rules will be amended as interpreted necessary to ensure compliance with these conditions.
Ken Goh
Treasurer & Membership Officer
World Tai Chi and Qi Gong Day 2010
The day on the Gold Coast started out a little gray, but as often happens just before we started to do our warm-ups, the sun comes through and gave us a very lovely mild day.
At Broadbeach here on the Gold Coast there were 50 students that played Tai Chi and connected their inner self with the rest of the world with Qi Gong.
This year we had some students come from the Gold Coast City Council Active & Healthy program.
Each year it gets a little bigger. As we are getting more members of TCAA here on the coast we will look at next year to run the event as TCAA to attempt to bring more schools on board.
Trust your day was a success.
Dennis Watts
To view images from the Sydney World Tai Chi and Qi Gong Day,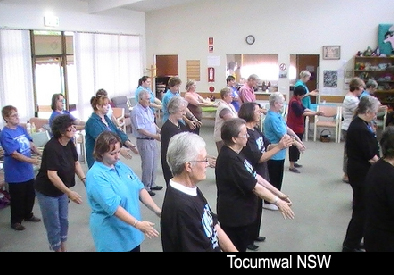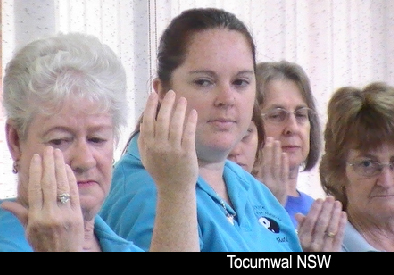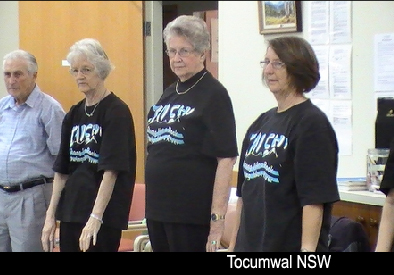 Tocumwal NSW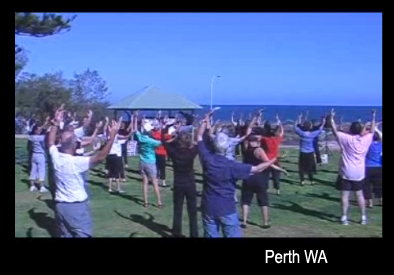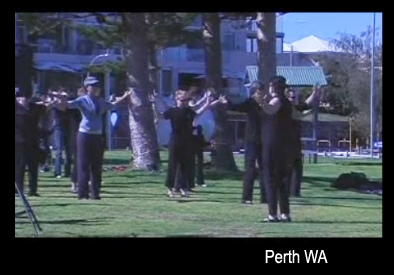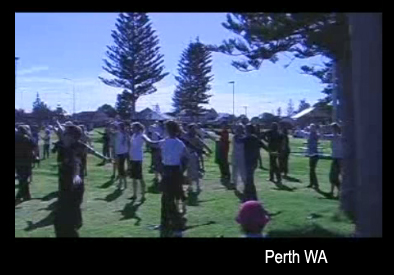 Perth WA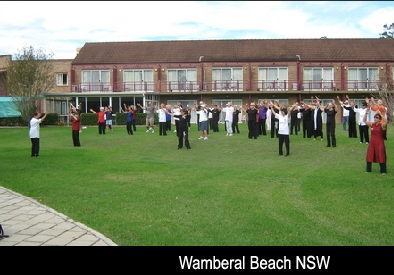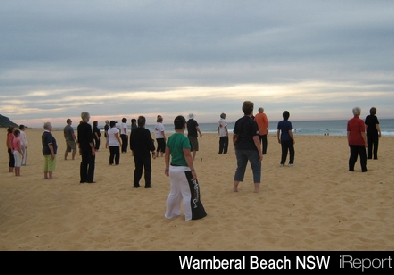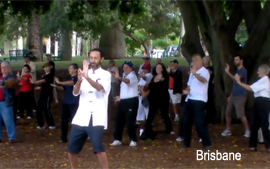 Wamberal Beach NSW Brisbane QLD
From the Editor
Dear TCAA Members,
Last month we celebrated the world Tai Chi and Qi Gong Day event. Driven by the Qi, we united with fellows in 65 countries, and expressed the concept of one world, one breath. World Tai Chi & Qigong Day facilitates the coordination of individual WTCQD events worldwide to focus world attention on personal and global health & healing.

We also shared a spirit of love, light, peace, friendship and enjoyed learning from one another about the profound health benefits of Tai Chi and Qi Gong. Practitioners and teachers from various schools, gathered under the Sydney Harbour bridge, and experienced together a global unity.
When I asked my friend, a Tai Chi Master in Boston, if he did anything special for the WTCQD, he replied "I live in a daily world of Tai Chi. Why do I have to recognize it just one day a year?"
My reply was "Like you, my world is also full of Tai Chi, but doing it together with people in 65 countries, simultaneously, brought with it a certain buzz. A global buzz".
But the best part was having everyone there and learning from one another. I certainly view Tai Chi as a contributor, not just for our health, but to our social and communal wellbeing.
Looking forward to the next TCAA gathering on June 13, 2010, at 12 noon, Bradfield Park, Milsons Point, NSW and hope to see you all there,
Love and Light,
Gadi
NSW State representative - TCAA
Disclaimer
The views and information supplied by the contributors of this newsletter, whether expressed or implied, are not necessarily the view of the TCAA inc. All material has been published by the Editor and the TCAA in good faith.