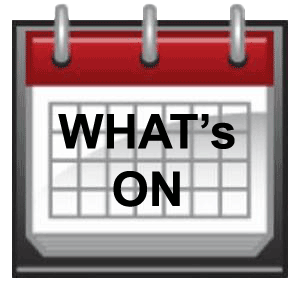 SEPTEMBER
What's happening
in the Tai Chi world?


Deadline for the next newsletter by

Oct 31st




Your Tai Chi events, images & articles etc.
Membership Renewal
Members are requested to renew as early as possible for the 4 years using the attached/linked form or from the TCAA Website. The Treasurer has obtained the services of an accountant from now till end of August 2011 to handle the renewal. You can expect your renewal to be completed within 2 weeks of receipt. After August, it could take a lot longer for a response.

With the renewal for 4 years, the membership card will be plasticized to last the distance. Members intending to practise or compete with a sword in Victoria are particularly reminded that you will need to make a statutory declaration about not being a "prohibited" person using a form that will be issued when the Victoria Justice Department gets it organised. The TCAA membership Card of these members will be a photo ID card, to distinguish from those not intending to exercise the "exemption"; so remember - not photo ID or no statutory declaration means you will not have been qualified in all respects to buy, keep or practise with a sword in Victoria.
Ken Goh
Treasurer and Membership Officer
Tai Chi for Self Defence
Tai Chi originated as a full-fledged "Martial Skill" (Wu Shu). Chen Wang Ting was a highly respected general in the Ming Dynasty army fighting a losing war against the invading Manchurians. He was reputed to have once single-handedly halt the advance of the Manchurian army at a narrow pass. When the Manchurian rule was finally established, the Manchurians invited Chen to be a general in their army. Chen politely declined and retired to his home village - Chen Jia Gou.
In his "retirement" Chen taught his village juniors the martial skills, and they became reputable security guards that were in demand in those days to move goods and valuables between the major cities. Their skills were put to the reality tests on the trail and passed.
Yang Lu Chan, when he first arrived in Beijing to teach the Manchurian ruling elite, was in demand because of his "unbeatable" martial skills. Over a few generations, those who learnt these skills put their own names to their teachings, and even changed the "look" of their art; but the "feel" (martial skills) remained, albeit obscured.
In East Asia and South East Asia, Tai Chi has always remained known as a "martial skill" with health benefits; only in the "western" cultures has it ever been thought of as a "health skill" with martial or self-defence benefits.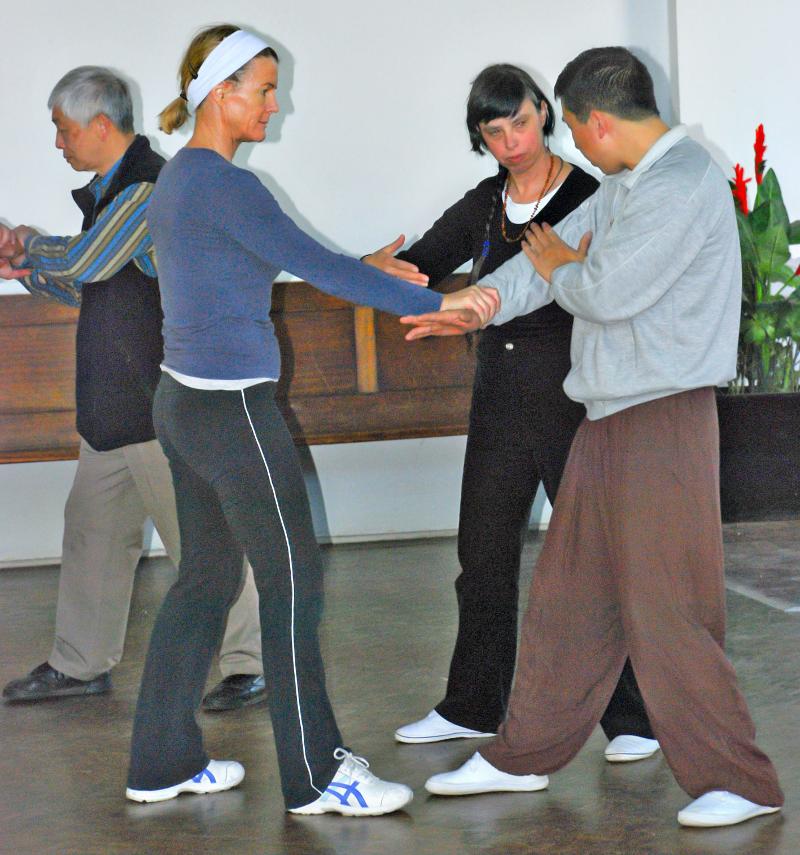 Depending on your preference, you may choose to be interested in the martial skills or not. If you have, you would have had a difficult time finding anyone willing to even talk about "push-hands", which is an essential method for the development of the martial skills. Fortunately in the TCAA, we have quite a few instructors keen to research and pass on this aspect. Workshops coordinated by TCAA on push-hands and self-defence have been conducted in recent months. These have been well attended. Two pictures below tell part of the story.
In conclusion, I would recommend that when you are ready to go deeper into the martial or self-defence side of Tai Chi, to keep a lookout for ads in the TCAA Newsletter and in "What's On". Of course, you can expect the workshops to be conducted within the OH&S rules of today, where the idea is to learn without injury.
Ken Goh, NSW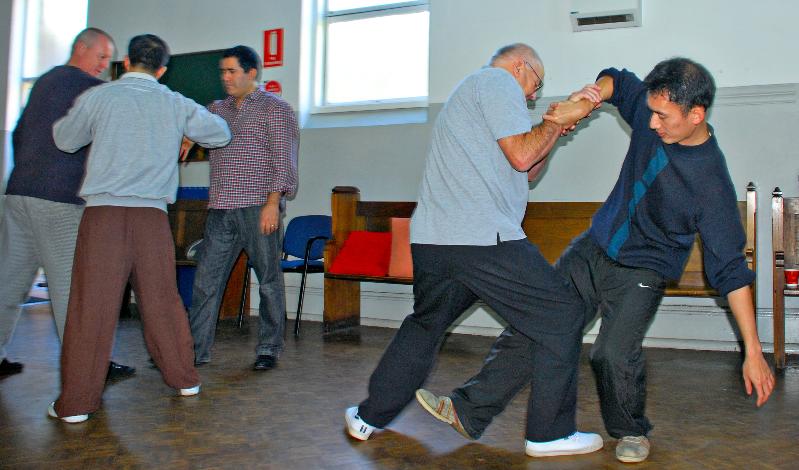 Why is our Immune System Being Overwhelmed?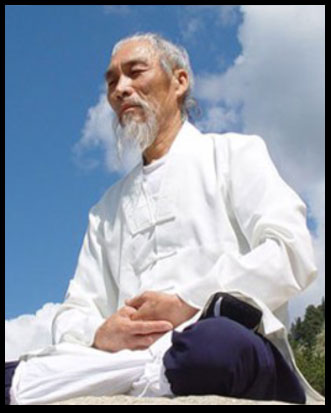 By GM Gary Khor
Medical researchers are questioning why with all the modern medicine and health care system in first world nations like the United States and Europe that illnesses and diseases are returning at an accelerating rate. Health experts estimate that many allergies and immune-system dis-eases have quadrupled in the past few decades.

Major diseases like cardiovascular disease, type 2 diabetes, dementia, Alzheimer's disease and cancer are linked to chronic inflammation which also causes premature aging and stress coping inability. It is no wonder that more and more people are looking towards natural medicine for answers. Taoist qigong may be one of the key system to enhancing the human body's natural state. It improves insomnia, chronic pain of multiple diseases and injuries, exhaustion, stress, anxiety, and pre-mature aging.

Neuroplasticity refers to the brain's ability to change itself. Research shows that it is possible to train the mind to overcome depression, regain use of limbs disabled by stroke and reverse old age related changes in the brain. The human brain has a natural ability to reorganize itself by forming new neural pathways and connections throughout one's life in response to new situations or changes in one's environment to compensate for disease and injury.
Master Zhang returns to teach in Sydney
When a workshop has been so inspiring that not only every single student asks to be notified of future workshops with Master Zhang, but a number of students actually consider travelling overseas to arrange to continue learning from him, then we can conclude that the workshop has been a resounding success.
In this light, we are delighted to be able to inform all Tai Chi Chuan enthusiasts that Master Zhang from Beijing has indeed agreed to return this November 2011 for two weekends of workshops, for both previous attendees and new interested parties.
click here to read more and see details on Workshops
Where: Head Academy - Jow Gar Kung FU
Unit 6, 71-73 Lords Road, Leichhardt NSW 2040
When: Preparatory Workshop Starting November 6th
Workshop 1 : Nov 11th - 13th
Workshop 2 : Nov 18th
Workshop 3 : Nov 19th - 20th
Private Lessons : Nov 14th - 17th
Enquiries and Bookings: Angela Cantafio 0439 997 549 hsu.cantafio@gmail.com
Web: http://www.anjingtaiji.blogspot.com/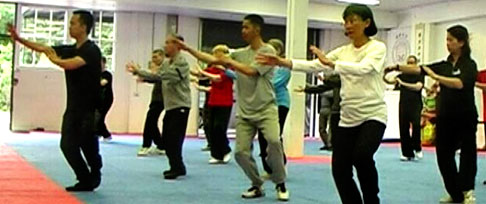 News from South Australia
Moon Lantern Festival

The Moon Lantern Festival, as part of the Oz Asia Festival, is a cultural celebration of togetherness with performances, food and market stalls, cooking and martial arts demonstrations, workshops and the stunning Lantern Parade at dusk, followed by fireworks.

The South Australian branch of our Association is once again involved with the Festival.

We will be offering free 30 min. workshops from 3.30 pm - 6.30 pm including the Tai Chi Qigong Shibashi, Qigong for Dementia and Tai Chi for Arthritis forms. A demonstration will be held in the Martial Arts area from 5.00 - 5.30 pm

The Festival is held in Elder Park, North Adelaide from 3.30 - 8.30 pm and is free. Please come along with your family and friends, support your Association and join in the fun.

Rosemary Palmer - SA Representative
From the Editor
Dear TCAA members and friends,

Spring is slowly creeping in, and brings a spirit of renewal with a strong transformational Qi influencing and empowering our Inner Master and our Inner Dimension.
I would like to share with you a passage from my book, the Key to Qi, brushing up what you already know about Qi and The Inner Dimension:
"Qi is the main attribute enabling you to travel and explore the Inner Landscape. The Inner Master governs the Inner Dimension with Qi, embracing all the thirteen Inner attributes of the body, mind and self. All the Inner Energies - your Inner Voice, Inner Peace, Inner Wisdom, Inner Light, Inner Compass, Inner Censor, Inner Winner and so on - are parts of the whole. They represent the unity of the Inner Master, which radiates and shines their characteristics, separately, at different times of your day, but it has no existence or reality by itself. It's a concept. All these attributes of your Inner Master, including your Intention, your Qi-flow, your actions, thoughts and feelings, are elements of the essence of who you are, both individually and as a part of the fellowship of mankind. The various components of the Inner Dimension, including the inner attributes previously mentioned are merely allegorical metaphors, to help transcend an intellectual comprehension of your body, mind and soul. They are mind-modulation tools, enabling you to absorb and contemplate the concept of spiritual energy and the unity between your body, its Qi energy and its Inner Master."
...so happy Spring full of Qi manifestation,
Gadi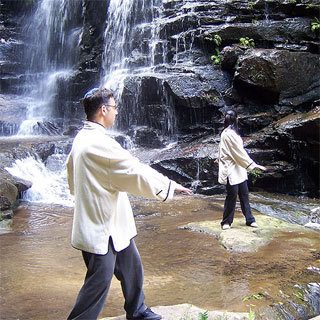 Disclaimer
The views and information supplied by the contributors of this newsletter, whether expressed or implied, are not necessarily the view of the TCAA inc. All material has been published by the Editor and the TCAA in good faith.