What's happening
in the Tai Chi world?


Deadline for the next newsletter by

30th May




Your Tai Chi events, images & articles etc.
President to Move On


Hi Everyone

After seven years of leadership our trusted President, Dennis Watts, has decided to step down at the end of this year and allow for new blood to flow in the TCAA.
As TCAA President Dennis have been instrumental in the organisation of the competitions. Just as importantly, Dennis have recently expressed his satisfaction knowing that we have finally put our "Code of Conduct" in place and have it passed.
Dr. Paul Lam: "I still remembered about 7 years ago, I called Dennis and urged you to take the presidency. So glad you did and have done a splendid job. I believe TCAA has a important place and everyone in the management team are doing a great job - the fact that we have increased and maintained our large membership is the evidence. Congratulations."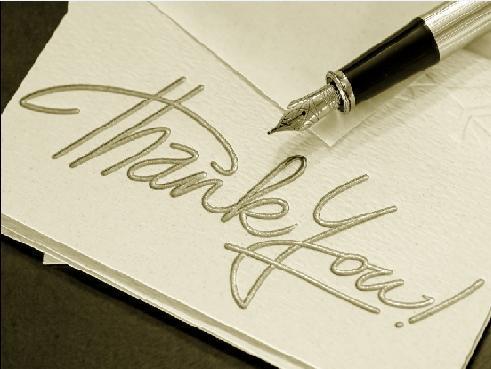 On behalf of all the members, we would like to thank Dennis for his 7 years long contribution to the Tai Chi Association of Australia, and wish him great success in his future endeavours.
Treasurer's note:
New Blood wanted in the Committee.
With Dennis' intention to not stay on the Management Committee after the end of 2011, it is becoming urgent that members begin to seriously consider a role in the running of the TCAA. Old fellas like Dennis and me are getting on a bit.
Like all interesting jobs requiring dedication, it comes without pay, and yet there are rules of good governance to comply with, and the good of the membership to consider. You will be contributing to the growth and stabilisation in Australia of the art that you love, directly and with the support of members. Remember, the TCAA is not a government department; it is an organisation that exist only because you the members want to associate together to create or enable something more than individuals acting alone can do.
So step up guys - get in touch with existing committee members (see website), put yourself up for election when the notice will be given in the November/December 2011 newsletter (yes start thinking about it now), and attend the AGM.. All you need is enthusiasm, time, and the will to act for the common good.
TCAA President's Dennis Watts reflects on his years of presidency and competitions

We have been extremely fortunate to have Mr. Dennis Watts in the Leadership position of the TCAA and the driving force behind the competitions.
We asked Dennis to reflect upon the highlights of his tenure, and how he have found himself in the driver's seat of the TCAA?

Dennis: I was one of the founding members at Paul Lams January Workshop in 1999. At that workshop we found so much camaraderie and an eager sense to share any knowledge that one might have with fellow Tai Chi players. At this time it was possibly the first time that many Tai Chi teachers had found themselves in the same place, with no ego, and willing to share. We gathered at the end of that workshop to discuss the possibility of forming an organisation consisting of like minded Tai Chi people to promote Tai Chi in Australia. A name was chosen and an interim committee formed to set up the Tai Chi Association of Australia. A call was made for people who would be interested in being on the TCAA committee and positions called for and filled. The first President was Paul Lam who served for 2 years. The second President was Steven Lucas.
My Presidency started in January 2004 - 2006. In 2006 I was the interim President as there were no nominations for the position. In 2007 Ken Goh was elected President and myself as vice President. In 2008 I was re-elected to President. I am President till the end of this year 2011.
In 2003 at the TCAA AGM a motion was put forward to hold a purely Tai Chi Competition. We needed someone with some idea of competition and how to run one. I had been involved with the then "Peaceful Challenge" held in Sydney. I had been a competitor for two years. In my third year, 2000, I was asked to judge as we did not have many people with the knowledge of the forms presented. I had been judged Grand Champion in the Over 45 class in 1998 and second place in 1999. In 2001 I was asked to be Head Judge. After that, insurance became a very big problem and competition stopped. As I said we need someone with competition experience and it was suggested I take on the roll.
The first two competitions were held in Sydney but the logistics of my being on the Gold Coast in Qld meant that I had to bring everything down to run the competition. It was decided to take the competition to me to make it easier to operate. It has been held at the Palm Beach-Currumbin State High School for two years then to Broadbeach Community centre for one year. It then moved to its present location, The Southport School which has been fantastic as a venue, .
Running the competition has opened many doors in relation to competition. TCAA has run some of the most successful competition in its time. It set standards that others had to come up to and still today, people talk about the quality of its trophies and medals, its support of its judges and officials'. The Quality that has developed with in Competition, especially with our now National AKWF competition has been due to work done through TCAA Open Tai Chi Competition. We have a computer program that has made my job sooo much easier thanks to Ken Goh. It took a little bit of twigging to get it right but has been worth it.
I have seen many Tai Chi players over my years of competition, and seen many excel to bigger things in the National and International arena. It has been a joy even though it is a lot of work and the committee for the competition has basically been the same since it started. I have had great support from Charles Tsui-Po who mentored me through my early years and without Gai, Ken and Charles I would not have been able to have the success that TCAA has become.
Dennis Watts
TCAA President/Competition Organiser
NEW Membership Requirements
Due to increasingly stringent requirements by the Victorian government on the membership of organisations wishing to seek exemption from the Control of Weapons Act, it has been necessary for TCAA to tidy up its membership rules. There is also the need for photo identification cards and even a statutory declaration about not being a "prohibited" person, for those who will wish to practise with swords in Victoria. Ultimately, it can be expected that other States may go the same way.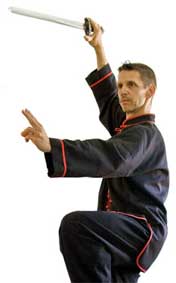 Accordingly, TCAA has developed a new form, applicable equally for new and renew members, with a Code of Conduct to sign off on at new/renewal. The new form is now on the TCAA website. The statutory declaration about not being a "prohibited" person will be developed when the Victorian Law requirements are promulgated. To support members with the new membership IDs, it has been decided that membership period should now be 4 years, costing $100.
World Tai Chi & Qi Gong Day - Adelaide
Where: South Tce Parklands. Near Pultney Street & Himeji Gardens
When: Starting at 10:00am on Saturday 30th April 2011
Bookings are Not required - All welcome
If raining go to across the road to Deaf CanDo hall - 262 South Tce Adelaide
Organised by the Australian Representative for the World Academic Society of Medical QiGong.
Mr Allan Kelson:
Deputy - Secretary General (WASMQ) & TCAA member & Jennifer Bould: TCAA Vice President.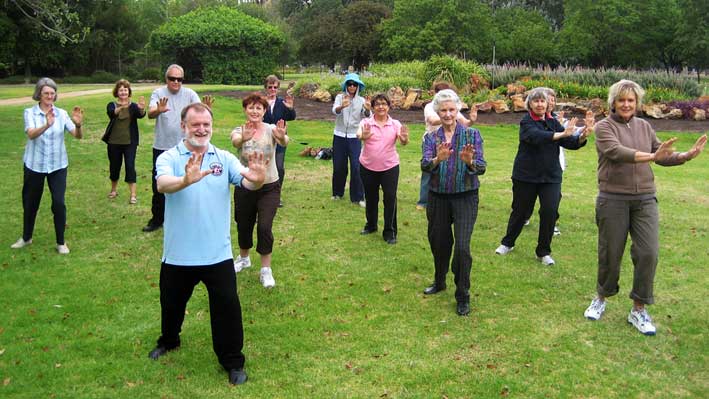 World Tai Chi and Qigong Day - SOUTH AUSTRALIA
World Tai Chi and Qigong Day was first celebrated on April 10, 1999, following the United Nations World Health Day. It is now celebrated each year on the last Saturday in April, which this year is 29th April.
World Tai Chi and Qigong Day is recognized as a universal day by the United Nations. At 10.00 am, beginning in New Zealand, practitioners from around the world will be out in the parks and on the beaches enjoying the friendship of other tai chi players and the benefits tai chi offers for health and well-being.
TCAA South Australian Branch will celebrate World Tai Chi and Qigong Day in Adelaide at:
Where: Peace Park
(off Sir Edwin Smith Avenue and opposite the Women's and Children's Hospital)
When: on Saturday 29th April 2011, from 10.00 am.
We have several of our Tai Chi schools joining us for this day and encourage members to come along with their families and enjoy a morning of Tai Chi and friendship.
After the park session there will be a meeting at the Lutheran Hall in Archer Street, North Adelaide followed by a workshop presented by Bill Bailey. Thanks Bill for offering this workshop.
For more information please contact:
Rosemary Palmer, Tel: (08) 83817969 Email: movingm@chariot.net.au
or Brenda Hum Mobile: 04413022246 Email: brenda.hum@internode.on.net
A MORNING OF FUN, MIRTH, SHARING QI on World Tai Chi & Qigong Day - Sydney
Where:
Donnelly Park, Kyle Pde, Connells Point, Sydney NSW.
When: 9:30am - 11:30am (approx) Saturday 30th April 2011
Bring own snacks & refreshments.
Contact: John Gough 0459 130 001 of Better Health Tai Chi Chuan (BHTCC)
Email: johngough_1@hotmail.com

When: Saturday 30th April 2011
Where:Eddie Ward Park in Surry Hills, Sydney
Lead: Alex Galvan
When: Sunday 1st May 2011
Where: at the Blue Mountains with students from springwood
Devonshire and Marlborough Streets. The Northcott Community Centre
Lead: Renata Bros with Alex Galvan
Tai Chi Knee Strikes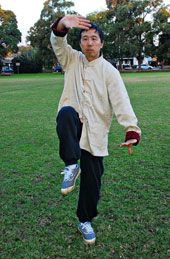 By Xiaotong Huang
Chen Tai Chi practitioner, Sydney
A knee strike is a strike with the knee, either with the kneecap or the surrounding area. We often see knee strikes in Muay Thai boxing. I believe no one would compare Muay Thai boxing with Tai Chi show boxing. The reason is very simple, Muay Thai boxing is very fast, and Tai Chi is very slow; Muay Thai boxing applies a lot of ferocious knee and elbow techniques, and Tai Chi looks gentle and uses many silk sealing movements. However, in Chen Tai Chi form one and two, there are a number of knee strike techniques, which are quite similar to Muay Thai boxing. Some movements involved in knee techniques include Gold Rooster on One Leg, Turn Flowers out from the Bottom of the Sea, The Fist of Protecting Heart with Jumping Step, Go Straight with Left Palm into Well, Thrust Reversely, etc.
Life Enhancement Qigong
(The Enlightenment Form)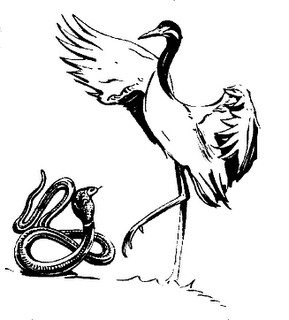 'WUJI GONG'
Where: St Michaels Primary School. BERWICK, Melbourne.
When: 10:00am - 4:00pm Sunday 15th May 2011
Bring a plate to share, refreshments supplied. Notes supplied
Cost: $80 (Concession $70) (Early Bird $70 by 29th April)
Enquiries and Bookings: Maxine Gardner 0409 193 315 healingmoves@exemail.com.au
800 years ago, so the story goes, a Taoist Master called Chang San Feng became transfixed by the observation of a battle between a snake and a crane. Inspired by his observations, he developed the original 13 move Tai Chi Form from which all tai chi forms were to be born. We have all heard this story.
800 years ago, so the story goes, a Taoist Master named Chang San Feng, while immersed in his contemplation of the Tao developed and practiced another form, which has been buried in secrecy for many generations. Until recently. Taught to 81-year old Zhu Hui by a 106-year old Taoist Master Li Tong, who lived on Wudang Mountain, this special form has finally reached us.
The Enlightenment Form or Life-Enhancement Qigong is a beautiful and easy to learn form. It also comprises 13 moves of Earth and Heaven. Its nature is simple, flowing, spiralling and gentle. It's effect is powerful, transformative and enlightening.
Life Enhancement Qigong is a powerful self-healing tool, rich with every aspect of Tao theory: feng shui, qigong, the bagua, colour, sound, 5 element theory the principles of tai chi body movement, microcosm/macrocosm and inner alchemy. Qi spirals in to the core, gently flushing and dissolving old karmic patterns, opening up the inner space, inviting healing on a profound level.
I invite you to learn this extraordinary Form which will enhance your Life on all levels.
Treat Yourself to a Meaningful World Tai Chi Day....
The World Tai Chi Day is fast approaching. Last year, after a very successful series of World Tai Chi Day events worldwide, I asked my friend, a renowned Tai Chi Master from Boston: how did you celebrate World Tai Chi Day ?
His reply was "I do not hold any celebrations on this day. I live in a world of Tai Chi - all my life. I don't mind if some people wish to recognize and celebrate Tai Chi one day a year, but I celebrate it every day." He continued: "It is like asking a farmer what does he do on earth day; the same probably as any other day."
My immediate reply was: "I love the analogy to a farmer. Like you, I am a tai chi farmer, but World Tai Chi day is like going to the markets to sell the produce and buy from other farmers their produce." As always, we've agreed to disagree.

The message of this day is one of sharing. When we arrive at this day as a full cup of knowledge, experience and confidence in our Tai Chi, there is not much that we can learn. On the contrary, when we come to this Global Health sharing event as a cup half full, there is a wealth of knowledge, experience and self-growth that our cup can be filled with.
As members of the TCAA, we are all ambassadors of Tai Chi and Qigong, responsible and accountable towards our communities, to spread the word, teach the techniques, practice the forms and advocate the principles of our wonderful health enhancement methods.
Our success as members can be far superior as we manage to collaborate effectively, share our knowledge and assist one another in our ongoing research, with humbleness.

So treat yourself to world tai chi day...
Gadi
Disclaimer
The views and information supplied by the contributors of this newsletter, whether expressed or implied, are not necessarily the view of the TCAA inc. All material has been published by the Editor and the TCAA in good faith.