World Tai Chi & Qigong Day 2021
Saturday 24 April
Send any news and photos for inclusion in this report to: service@taichiaustralia.com
New South Wales - Sydney
2021 World Tai Chi & Qigong Day (WTCQD) was scheduled on Saturday 24 April 2021 in Victoria Park, University of Sydney. However, due to the large number of people turning up for the event, it was moved within the Sydney University grounds, on the steps nearby the Library and the Faculty of Law. It was probably the best turn out event for the TCAA's WTCQD in a long time, close to 200 people was the approximate head count which was incredible for an event being held during the COVID-19 pandemic. It was blue clear sky with a temperature of about 24 degrees on the day.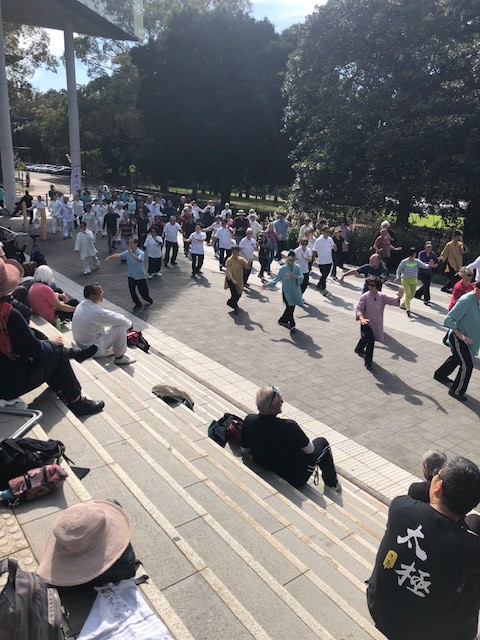 The program ran from 10:30am to about 13:00pm, commencing with 2 sets of Qigong routines followed by 2 widely practised yang style forms, 24 and 42. Public participation was overwhelmingly embraced in those routines. Next were 21 individual and group demos by 12 participating Tai Chi Associations and Groups. The demonstrations were of high standard with groups and individuals showcasing a range of barehand forms, namely Yang, Chen and Tai Yi. The application of selected shadow boxing forms was also demonstrated in a real street combat scenario. Apparatuses or weapons forms displayed by highly skilled martial artists included the Swords; Dao; Kwandao; Staff; Ball; and the Fan.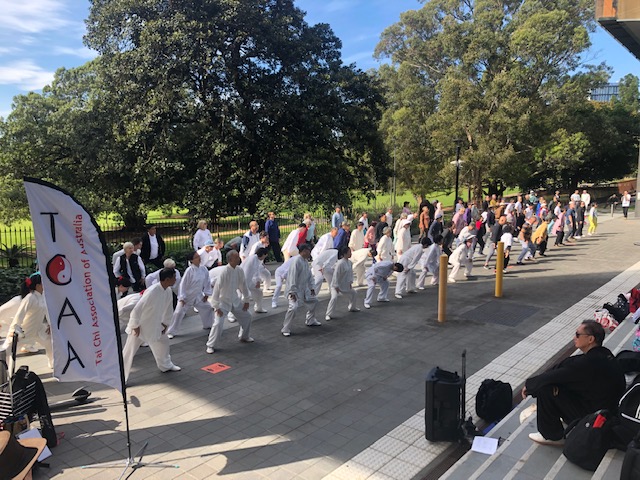 It was great to see Tai Chi practitioners from various groups all over Sydney (from Central Coast to the South Coast) sharing their performances with others without any prior practice together - just joining and doing it together. This demonstrated the friendly and unprejudiced atmosphere on the day. For many in the group, it was their first foray into performances and the friendships of Tai Chi in building their confidence and motivation.
The event was a perfect example of what the TCAA stands for, to promote and share Tai Chi to the wider community. The feedback from everyone has been really positive!!! They look forward to the next TCAA's event scheduled for the Moon Cake Festival on Saturday 18 September 2021.
The TCAA would like to acknowledge with gratitude the participation of the following Tai Chi Associations, Groups and/or Individuals: :
Campsie Tai Chi Group.
Central Coast Tai Chi Group.
Darling Harbour Tai Chi Group.
Jing Ling Tai Chi Academy.
Kookaburra Tai Chi Group.
Kungfu Republic.
Lidcombe Tai Chi Group.
Parramatta Tai Chi Group.
Rhyme of Wind Tai Chi Group.
South Coast Tai Chi.
Sydney Chen Zhonghua Taiji Academy
YangZhao Taiji Group Australia.
More photos from the day: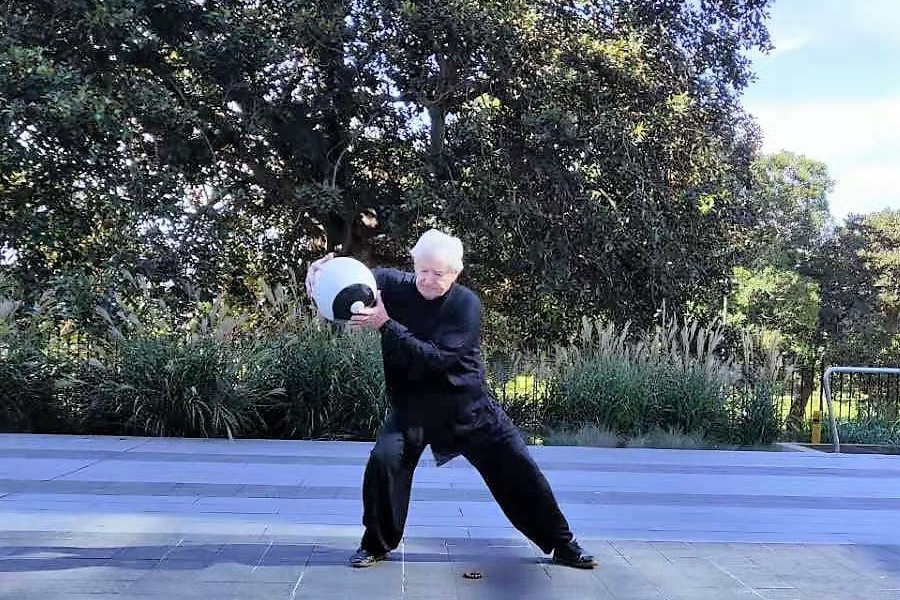 Brian Corless coordinated a representation from the South Coast and received some very positive feedback from participants: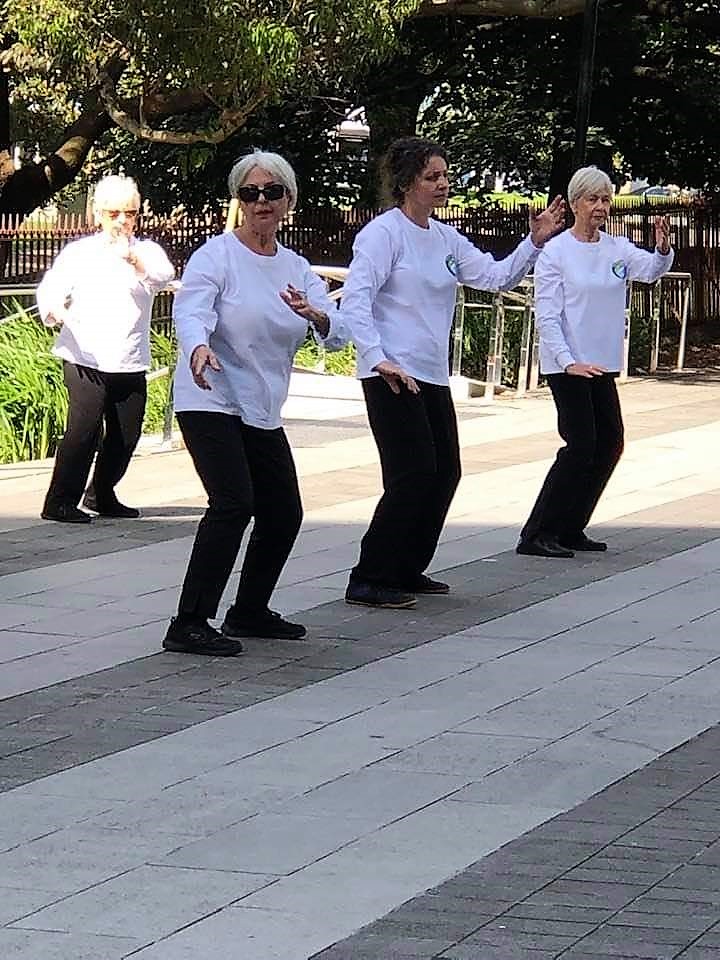 "In anticipation of World Tai Chi Day 2021, our South Coast group put in some extra training for our first group performance in Sydney. Not absolutely sure what to expect, our pre-display excitement ran high. The event lived up to my expectations in every way. Not only did I have the chance to participate in the warm up Qigong with a whole lot of other Tai Chi enthusiasts, but performing to an audience of experienced practitioners gave me a great boost of confidence. It is always good to meet with others who share your passions and this day gave me some insights into the variety of styles and forms of tai chi which I had not encountered previously. The performances, both group and individual were very engaging. There certainly is something for everyone in the world of tai chi. A great big thank you to the organisers for expanding my tai chi horizons". Lucy.
"What a great day of tai chi and friendship on World Tai Chi Day 2021. As part of the South Coast group I would like to congratulate the organisers and all the participants on a fun and friendly morning of beautifully rendered tai chi by everyone. Great weather assisted us all in having a good day together. I look forward to meeting you all again soon. Thank you." Deb.
"It was a great experience to share World Tai Chi Day 2021 with so many others who are passionate about their tai chi. So much training had gone into the performances and it was a privilege to watch and also be involved with these. Thanks to all involved." Lyndell.
---
---