Competition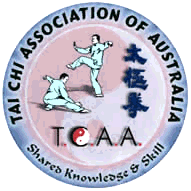 Open Tai Chi Championships 2019
The 2019 Open TCAA Championship, will be held on Saturday 1st June, at the Sydney University Sports & Aquatic Centre, Darlington Road, Darlington New South Wales.
Participation is OPEN TO ALL TAI CHI ENTHUSIASTS. Please register as early as possible, and tell all your Tai Chi friends to register to perform or to come and enjoy watching.
The closing date for registration is Sunday 5th May 2019
Downdoad the 2019 Regulations and Registration Form
Divisions
Male and female will be in separate divisions. Age divisions remain, as always, but this year we are making the TaoLu (Forms) 18 to 45 age bracket as "OPEN", meaning that you may choose the challenge of being in this more "prestigious" division whatever your age. Be aware though that you will face stiff competition, and only 3 medals will be awarded.
Awards
Awards within an event will be Gold, Silver and Bronze. However, for TaoLu events, if a division has less than 3 participants, medal awards will be based on the level of scores gained.
There will also be awarded Overall Competition Taolu Champion Male, and Female. In addition to a gold medal, these champions will be awarded a trophy donated by Mr Damon Bramich in honour of his sifu, Fu Sheng Yuan.
FORMS COMPETITION
This year, the Forms (TaoLu) will be:
Quan (Individual): "Standard Competition" (5-6 min) but 24 Forms remains 4-5 mins; "Traditional" (3-6 mins) and "Others" (3-6 mins).
Quan (Group): The Quan Group event is 3-6 mins, and group size is 4-10 persons.
Apparatus (Individual): Jian, straight sword (3-4 mins) and Other apparatus (1-4 mins).
Apparatus (Group): The Apparatus group event is 1-4 mins.
NOTE: "Other" TaoLu denote non-"Standard Competition" and non-"Traditional", but must still be "Tai Chi - like" with the internal "jing" characteristic to attract good scores.
PUSH HANDS COMPETITION
Push hands is still "MOVING STEP" on rubber mats as per last year 2018. The size of the arena remains a circle of 3 meters diameter. Rules for safety will be tightly enforced as always, so we do not injure friends.

Watch the video explaining the "Moving-Step" Push Hands Rules.
A significant change is made to the starting position of a bout: The crossed hands at the start will be at stomach level rather than at face level.

Watch the video explaining the changes.
Female participation in push hands is always encouraged. We hope to get enough female athletes to compete within all-female divisions. So girls, sign up! And practise away.
Please read the Regulations, register early, practise a lot until your TaoLu (and push hands if applicable) becomes smooth, easy, no tension, expansive, and effortless, yet full with internal power that can be felt even by an observer. And most of all, come and enjoy the fellowship.
TCAA TaoLu Competition Rules
TCAA TaoLu Competition Rules: TCAA follows the IWUF 1999 Competition Rules as they are easier to implement, and yet provide a clear distinction of quality of TaoLu performance. TCAA does not consider it necessary to follow the IWUF 2005 Rules, especially as they require more resources. Click here to view the IWUF 1999 Rules.
Competition Archive
Information and results for previous competitions are contained on the Competition Archive page.
---
---